DOWNTOWN COWTOWN AT THE ISIS
The Movie Mutant hosts a FULL DAY of John Wayne classics. Admission is FREE with the purchase of a snack & drink.

11:15am – STAGECOACH
2pm – MCLINTOCK!
5pm – THE GREEN BERETS
8pm – THE MAN WHO SHOT LIBERTY VALANCE

Join us in the freshly restored 500 seat theatre. They'll also be movie themed cocktails available in the lounge!
Tags: Seasonal, Western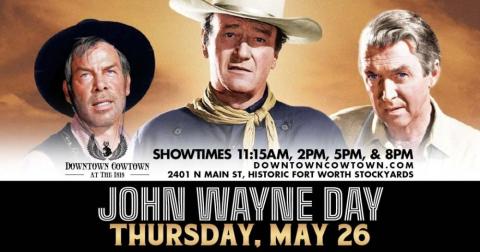 When
05/26/2022 - 11:15am - 05/26/2022 - 10:15pm
Where
Downtown Cowtown at the Isis
2401 N Main St
Fort Worth TX 76164