Four Hours of Fun in the Stockyards, is an educational program in partnership with Stockyards Heritage Historical Walking Tours, The Texas Cowboy Hall of Fame  and the Cowtown Cattlepen Maze. It also includes watching the longhorn cattle drive! This education program is perfect for school groups, class trips and more.
Stockyards Tours: The History of the old west comes alive as you tour Mule Alley, The Cowtown Coliseum and the Historic Livestock Exchange Building. One the Cattlemen's Catwalk you see the original pens below and a panoramic view of the area. Quanah Parker, Bill Pickett, and Jesse Chisholm are a few characters whose stories will come to life. 817.625.9715  www.fortworthstockyards.com
Texas Cowboy Hall of Fame: NEW PROGRAM!  Learn about the cowboy way of life and why it is still important today!   Students will get an overview of cowboy culture and vocabulary along with insight on its impact on our everyday life.  Discover the many ways that men and women have made significant contributions to the Western lifestyle in Texas! 817.626.7131 www.texascowboyhalloffame.org
Cowtown Cattlepen Maze: With over 5,400 square feet of frequently changed wooden pathways, resembling the cattlepens of the old west, the Maze is always a challenge! Maze runners are timed through the two-level course of twists and turns attempting to locate checkpoints and find their way out. Logical thinking or luck – determines your Amaze'n Time! 817.710.7350  www.fortworthstockyards.com/cowtowncattlepenmaze
Contact the Stockyards Tour Manager for more information and pricing at 817-625-9715 or by email at tours@stockyardsheritage.com
April and May school dates are premium, call today to make your reservations.
Tags: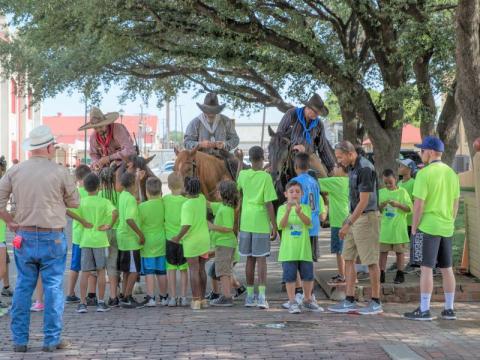 Hours
Program runs from 10am - 2pm or call to customize a special program.
Contact
817-625-9715
Tours@stockyardsheritage.com
145 East Exchange Avenue
Fort Worth TX 76164