Temporary Hours:
Closed Sunday
Mon - Thurs: 5pm - 9 pm
Fri & Sat: 11:30am - 2pm and 5pm to 10pm
URBAN WESTERN CUISINE: Opened in 2000, The Lonesome Dove Western Bistro, located in Fort Worth's Historic Stockyards District, has quickly become the city's premiere dining establishment. Chef/Owner Tim Love has designed a menu influenced by all of the ingredients and cultures that have been a part of the West since the first adventure began on the Goodnight-Loving and Chisholm Trails — with an added level of modern sophistication. Items on the Lonesome Dove Bistro menu range from an inventive selection of steaks and seafood to dishes such as Wagyu Tomahawk, Kangaroo Carpaccio, Rocky Mountain Elk Ribeye, Wild Boar, and Rabbit & Rattlesnake. The Lonesome Dove Western Bistro & it's Chef / Owner Tim Love has received numerous awards and acclaim from the likes of Wine Spectator, Food & Wine, Zagat Survey, Southern Living, Esquire, The New York Times, Fort Worth Star-Telegram & The Dallas Morning News.
Tags: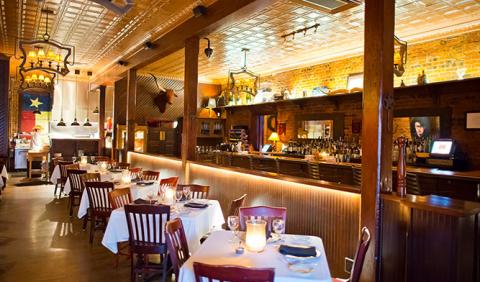 Hours
Please see temporary hours in description
Monday: 5:00 PM - 10:00 PM Tuesday through Thursday: 11:30 AM - 2:30 PM & 5:00 PM - 10:00 PM Friday through Saturday: 11:30 AM - 2:30 PM & 5:00 PM - 11:00 PM
Contact
817-740-8810
julia-tighe@lovestyleinc.com
2406 North Main Street
Fort Worth TX 76164