Joe Riscky immigrated to America from Poland in 1911. He worked at the Armour Packing Company in the Fort Worth Stockyards for $9 a week when he met a fellow Polish immigrant, Mary Bunkervitch. She was working as a housekeeper when they met. With $400 in the bank, Joe and Mary were married in 1912.
In 1927, Joe and Mary opened Riscky's Grocery & Market in the Northside of Fort Worth. Their son Pete Riscky took over in 1952 and today Pete's son, Jim Riscky, runs the company which has evolved into eight restaurants.
Riscky's barbecue is hand-rubbed with "Riscky Dust" and slow smoked for hours. All of our smoked meats are cooked at our central location on Azle Avenue in the northside of Fort Worth. Jim Riscky has designed his own smoke pits which operate 24 hours a day. We also offer full service delivery, and pick-up catering.
According to the folks that work at Riscky's and the customers who frequent our restaurants, Riscky's has become a legend in Texas barbecue. Come by and visit our restaurants today!
Tags: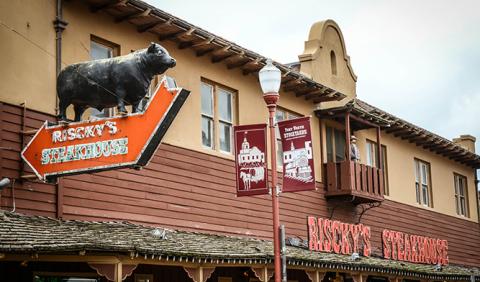 Hours
Sunday to Monday : 11:00 AM to 9:00 PM
Tuesday to Thursday: 11:00 AM – 10:00  PM
Friday to Saturday: 11:00 AM – 11:00 PM
Contact
817-624-4800
risckyssteakhouse@yahoo.com
120 East Exchange Avenue
Fort Worth TX 76164