DOWNTOWN COWTOWN AT THE ISIS

An inspiring, highly acclaimed one-man musical comedy about the most fascinating character to ever ride across the pages of history, the American Cowboy.
Joe Texas dispels the rumor the cowboy is a dying breed. Through songs, stories and poems, Joe will share the true story of the cowboy not the Hollywood version. It is a show not to be missed!
Joe sings, twirls a rope, plays harmonica, banjo, guitar and throws in a few dance steps. His expressions have been compared to the legendary comic, Red Skelton, his wit to Will Rogers and his soulful vocal delivery is pure joy to the ear.
Experience the West as never before! Joe keeps the audiences laughing and touching stories will bring tears to your eyes. It's unique, fast paced and fun!
Tags: Seasonal, Western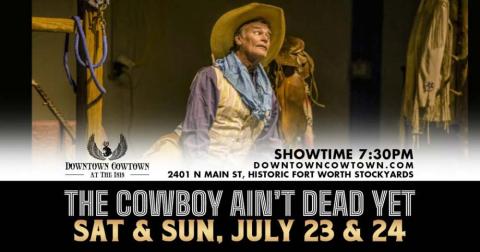 When
07/23/2022 - 1:00pm - 07/23/2022 - 6:00pm, 07/23/2022 - 6:30pm - 07/24/2022 - 10:30pm, 07/24/2022 - 2:00pm - 07/24/2022 - 7:00pm
Where
Downtown Cowtown at the Isis
2401 North Main Street Fort Worth
Fort Worth TX 76164