The Cowboys Are Back!
Join us for John Wayne's "The Cowboys" 50th Anniversary Weekend Festival in the Fort Worth Stockyards June 24-26.
John Wayne: An American Experience, The Cowboy Channel, Stockyards Heritage and Hotel Drover partnered with the members of the cast of "The Cowboys" to host a celebratory weekend festival in honor of the film's 50th Anniversary. 
The 3-day celebration will include outdoor film screenings after sunset on the Livestock Exchange lawn (with pre-show entertainment and food trucks) on Friday and Saturday nights, meet and greet opportunities with 9 members of the cast, a live televised film panel with studio audience on Sunday night at The Cowboy Channel Studio, and special installations and a reception at John Wayne: An American Experience.
Tags: Family Fun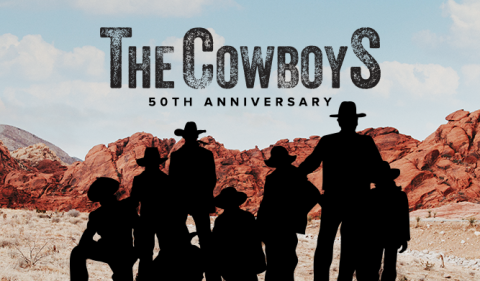 When
06/24/2022 - 4:00pm - 06/24/2022 - 11:59pm
Where
John Wayne: An American Experience
2501 Rodeo Plaza
Fort Worth TX 76164