DOWNTOWN COWTOWN AT THE ISIS
Sharon Owens started performing her tribute to Barbra Streisand when she moved to LA in 1992 and shortly thereafter became a headliner for "Legends in Concert" and has toured with the production in Las Vegas, Atlantic City, Myrtle Beach, Germany, Italy, and Israel. When she's not performing in "Legends" she tours with her own tribute to the legendary Barbra Streisand.
Her tribute takes you through over 50 years of Barbra's music from her Broadway debut in the 60's, to her 1st album, the "disco" 70's, her collaboration with her HS class- mate Neil Diamond, and the 80's working with Barry Gibb. Plus, Barbra's albums of the early 2000's. Jay Leno said of Sharon Owens, "She's simply amazing!" And the Fox TV show. "Performing As" named her "The winner of the best Impersonator and Tribute act in the country as Barbra Streisand"

All street parking is free. There are two paid lots nearby. One in the alley behind the theatre and the other on the corner of Ellis and 24th.
Tags: Music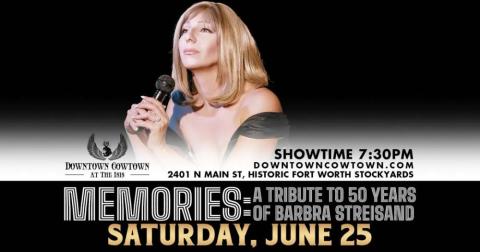 When
06/25/2022 - 7:30pm - 06/26/2022 - 12:00am
Where
Downtown Cowtown at the Isis
2401 N Main St
Fort Worth TX 76164