Spring Breakaway
Stockyards Style
SADDLE UP MARCH 9 - 19
PBR STOCKYARDS SHOWCASE
Thursdays | March 2, 16, 23 & 30 | 7:30PM
High-flyin' bull riding action and a shot at the World Finals!
STOCKYARDS CHAMPIONSHIP RODEOS
Every Friday & Saturday | 7:30PM 
Saddle Up for the great rodeo excitement every weekend in Cowtown Coliseum.
YUENGLING PARTY ON THE LAWN
America's oldest brewery is now in Texas! Introducing Flight Pints, giveaways, photo ops and more!
LUCK O' THE STOCKYARDS
Friday, March 17 | 4PM to 8PM
$5 Green Drafts, Live Music, Giveaways & more on the Livestock Exchange Lawn.
COWTOWN GOES GREEN
Saturday, March 18 | 10AM to 8PM
An Irish-Western Parade, Two Stockyards Championship Rodeos, Armadillo Races, Cow Milking, Roll-O-Ropers, Live Music, Giveaways, Face Painting and much more!
Tags: Family Fun, Festivals, Seasonal, Western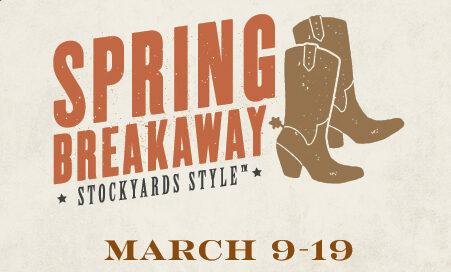 When
03/09/2023 - 10:00am - 03/19/2023 - 8:00pm
Where
Fort Worth Stockyards
131 E. Exchange Avenue
Fort Worth TX 76164