The Fort Worth Herd is the world's only twice daily longhorn cattle drive, held every day at 11:30 AM & 4:00 PM in the Fort Worth Stockyards.
Drives are not held on Easter Sunday, Thanksgiving Day or Christmas Day. The Fort Worth Herd Trail Boss determines drive cancelations due to inclement weather and necessary onsite changes. 
The Fort Worth Herd steers can be viewed before and after cattle drives in their pens behind the Livestock Exchange Building or at the Observation Deck just east of the Livestock Exchange Building on East Exchange Avenue. 
Drovers are available before each cattle drive for photo ops and questions. Be sure and ask for Steer Trading Cards!
If you enjoyed the cattle drive, you can text TheHerd to the number 41444 to donate to the non-profit, 501c3. 
**For the safety of our guests, staff, and animals unmanned aircraft sysytems (Drones) are prohibited from use during the Fort Worth Herd cattle drive.** 
Follow us on Facebook, Instagram and Twitter @fortworthherd000
Tags: Charity, Family Fun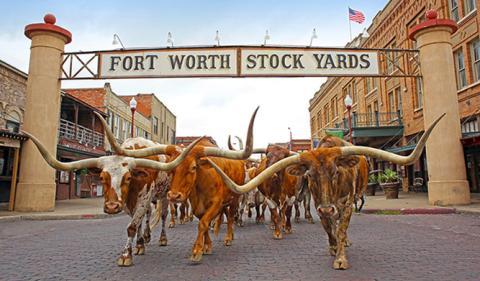 When
01/01/2022 - 9:00am - 01/31/2023 - 9:00am, 02/01/2023 - 9:00am - 02/28/2023 - 9:00am, 03/01/2023 - 9:00am - 04/08/2023 - 9:00am, 04/10/2023 - 9:00am - 04/30/2023 - 9:00am, 05/01/2023 - 9:00am - 05/31/2023 - 9:00am, 06/01/2023 - 9:00am - 06/30/2023 - 9:00am, 07/01/2023 - 9:00am - 07/31/2023 - 9:00am, 08/01/2023 - 9:00am - 08/31/2023 - 9:00am, 09/01/2023 - 9:00am - 09/30/2023 - 9:00am, 10/01/2023 - 9:00am - 10/31/2023 - 9:00am, 11/01/2023 - 9:00am - 11/22/2023 - 9:00am, 11/24/2023 - 9:00am - 12/24/2023 - 9:00am, 12/26/2023 - 9:00am - 12/31/2023 - 9:00am
Every Day at 11:30 am and 4:00 pm
Where
East Exchange Avenue
129 East Exchange Avenue - Behind Livestock Exchange Building
Fort Worth TX 76164