Beginning Monday, September 11, 2023 we will resume normal programing schedule (11:30am and 4:00pm cattle drives). Watch for updates based on the weather forecast.
Regular hours are in effect for next week. The behind-the-scenes Fort Worth Herd Experience will take place Fridays, Saturdays and Sundays from 1:30 to 2:30 p.m. behind the Livestock Exchange Building at 131 East Exchange Avenue.
The best place to view the drive is from the sidewalks in front of the Livestock Exchange Building located at 131 East Exchange Avenue.
For the most up-to-date schedule, please check our social media pages.
Please visit www.fortworthherd.com for more information.
The Texas Longhorn and the American cowboy are two of the most enduring symbols of the Old West. They're a big reason why Fort Worth earned the nickname "Cowtown." And they formed the core of the great cattle drives of the late nineteenth century. Now, the romance and mystique of cowboys and cattle drives returns to Fort Worth with The Herd - Texas Longhorns driven by genuine Texas cowhands - offering an unforgettable glimpse into the past. You'll hear the jingle of spurs, the cattle bawling, and the rhythm of the hoofbeats. As The Herd passes, a bygone era comes to life before your eyes every day at 11:30 AM & 4:00 PM.
Thank you to our partners:
Tags: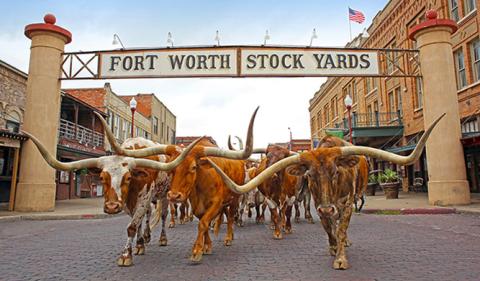 Hours
7 Days a Week 11:30 AM & 4:00 PM
No Cattle Drives on Thanksgiving, Christmas Day, or Easter
Contact
817-336-4373
theherd@fortworth.com
129 East Exchange Avenue
Fort Worth TX 76164