Smith Music Group (SMG) is Texas' leading Country Music recording label. Formed by Haltom City native turned Florida entrepreneur, Rick Smith, in 1998 with the release of live-recorded albums by Texas upstart, Pat Green & Country legend, Merle Haggard. This critically acclaimed series recorded at the World's Largest Honky Tonk, Billy Bob's Texas, has gone on to include Grammy Award winners, Willie Nelson and Asleep at the Wheel, Oklahoma Red Dirt rockers, Cross Canadian Ragweed, Outlaw Country Troubadour, David Allan Coe, and three of Country Music's biggest breakout stars, Randy Rogers Band, Wade Bowen and Stoney LaRue. Now totaling over 40 full concert recordings spread out over 3 decades, Live at Billy Bob's Texas, is one of Country Music's most extensive catalogs, featuring legends in Country and Alt-Country music from Texas, Oklahoma and across the US.
In 2003, Smith Entertainment Records (SE) was launched. This off-shoot label of Smith Music Group, helped usher in a new age of independent artist distribution in Country Music. As the exclusive retail distributer for an elite roster of artists, we are helping many outside Nashville & Los Angeles maintain their Independent nature but still enable their music to have a major prescence at retail (an advantage artists signed only to major record labels have had in the past).
SMG & SE know our regional market and are able to service it in a more intimate & customer service oriented fashion, one retailer at a time. Distribution includes our extensive network of "Traditional Music" retailers like Amazon, Best Buy, Barnes & Noble, and Hastings as well as "Non-Traditional" retailers and Gift Shops such as Buc-ee's, Cavender's Boot City, and Boot Barn, to just name a few.
In 2004, the Smith Entertainment Digital Imprint was launched. One of the first digital record labels of its kind, SE-Digital is quickly becoming a Texas based artist's first step into the world of digital retail and onto websites such as iTunes, Amazon.com, Rhapsody, Emusic, Beats Music and many more. Many of our Digital artists have also gone on to enjoy success on our Smith Entertainment label.
Tags: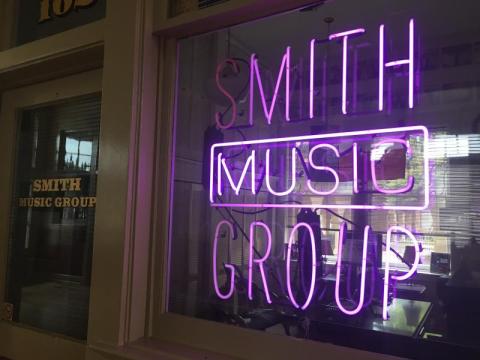 Hours
Contact
(817) 378-0900
ricky@smithmusic.com
131 East Exchange Avenue Suite 102
Fort Worth TX 76164