Opening Friday, October 9th! Now serving food!
For more information on menus and bands please visit our website and Facebook page. 
 
In 1910, about 25 years after the birth of a thriving cattle industry in Fort Worth had begun, there was a building frenzy heading up Exchange Avenue to the west. At what is now 121 West Exchange, the Longhorn Saloon was up and runnin'. It sat in the heart of what was truly a city within a city.  To support the many people who lived in the area employed by the Swift and Armour packing plants.  There were banks, stables, eateries, a jewelry store, clothiers, and just about any type enterprise it takes to maintain a community.

The Longhorn Saloon thrived until the mid 1960's, when the packing plants closed due to the advent of trucking, local auction houses, and feedlots, nationwide.  With the death of Swift and Armour came the loss of jobs and the decline in retail merchants.Today it is a very popular tourist stop in the Historical Fort Worth Stockyards, as well as a destination point for many Fort Worth and surrounding area locals as the only destination of it's kind. Don't be surprised that when you walk in the front door if Lil' Red himself doesn't walk up, shake your hand and say, "Welcome home!"
Tags: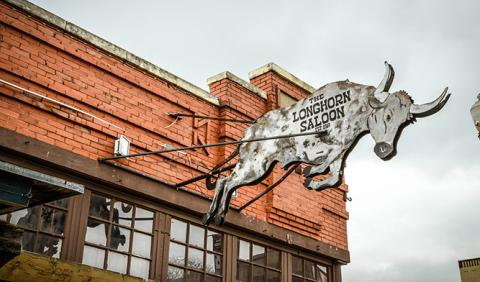 Hours
Contact
817-386-5962
frontierrodeo@aol.com
121 West Exchange Avenue
Fort Worth TX 76164