If you're into real Texas music, house-brewed beer and delicious grub made with nothing organic, you've come to the right place. Second Rodeo is a come-as-you-are brewery, live music venue and outdoor bar-garden for folks of all ages and their furry buddies, too.
Inspired by the Outlaw Country music renegades and a little by the outlaw cowboys of yesteryear (who worked in their Second Rodeo--the Prison Rodeo), you will discover a unique and playful interior design with many hidden gems.
Sit back with a cold one, pet your dog, chat with your college friends and enjoy the live Texas music of Western Swing, Texas Blues, Outlaw Country and the classics. We ain't got none of that Nashville pop here. With three live sets daily, music is always free and all are welcome.
Brought to you by the Truck Yard folks, Second Rodeo features Truck Yard's famous cheesesteaks and Second Rodeo's new funkified chicken wings like "maple bacon glazed wings with waffle crumble" or "Mexican Orange Fanta glazed with Tajin seasoning."
We are big on celebrating Texas, saying "F this" to the norm, and creating a place where even Johnny, Willie and Waylon would be proud to hang. With a spot in the historic Stockyards, Second Rodeo represents what Fort Worth was meant to be.
Be sure and follow us on Instagram @secondrodeobrewing and Facebook
Tags: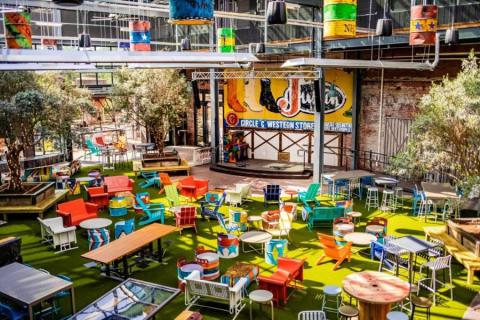 Hours
Sun - Mon: 11AM - Midnight
Tue: 4PM - Midnight
Wed - Thur: 11AM - Midnight
Fri - Sat: 11AM - 2AM
Contact
817-240-4959
122 E. Exchange Avenue
Fort Worth TX 76164